How to monetize your content with Skimlinks: From installation to turning commerce content into a real money maker
Posted 1 year ago by Skimlinks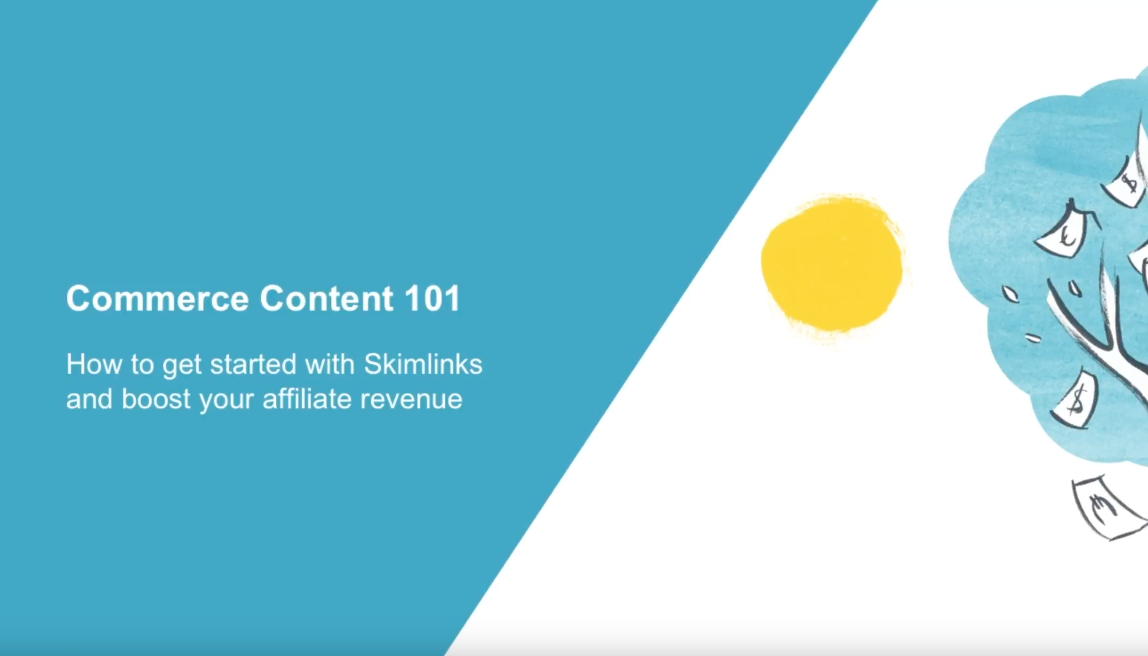 It's been said that the hardest step in a journey is the first one. And at Skimlinks, we notice that a lot of publishers fall at the first hurdle. They sign up, but once they've been approved, they struggle to install our technology and understand how to use it to make money from the content they create. So this week, we ran a digest Webinar, aimed at educating publishers about how to install our technology, use it to make money from their content, and from there turn commerce content into a real money maker.
You can watch the recording below:
How to install Skimlinks
During the webinar, Jenny Williams our Director of Merchant Development starts by outlining how you can install Skimlinks and use our technology.
We recommend using our Javascript. It's a small piece of code which you install in the footer of your website, that automatically affiliates links to merchant links in our network. Once a link is affiliated, it will be monetized once someone clicks on it and makes a purchase as a result.
We also have a Google Chrome extension which we call the Skimlinks Editor. When you visit merchant websites, it will display information about the merchant – like the commission rate they offer – and a shortened affiliate link that you can use on your website, social media, YouTube page and in email newsletters.
You can also generate these short links using the link generator in the Hub.
How to use Skimlinks to make money from your content
The best way to use our technology to make money is to write dedicated "commerce content". This means product-centric content, focused on products or brands that people are looking to purchase.
It has become a key focus for publishers in the ten years. It's a way to provide a service to readers, creating content that helps inform their purchase decisions, and using affiliate links, ensures publishers get rewarded for the role they play in driving sales.
There are two types of commerce content: timely and timeless pieces.
Timely commerce content is a trending opportunity. It can be focused around a product launch, or linked to a limited time discount, or a specific event like The World Cup. In an ideal world, it drives a high amount of conversions over a short period and is essentially disposable.
Timeless pieces can also be called "evergreen content". These should be built around recurring events like Black Friday or Mother's Day, or items like jeans that never go out of style. They may not have the same high initial drive of conversions, but over the course of time should prove consistently valuable. Their lifetime value can also be extended by adding new links from time to time. It keeps the posts relevant in search engines and ensures people can always make a purchase when they land on your post.
You can find commerce content inspiration here.
How to turn commerce content into a real money maker
Once you're up and running with Skimlinks, you'll start to gain further insights about your audience: the products they want to buy, the merchants they like buying from, and how valuable your audience is.
We house reports for those metrics, as well as others, in the Publisher Hub for your convenience. In the video Jenny also covers our merchant network. We work with 24,000 merchants across 30 affiliate networks and have categories and metrics you can use to decide which of them to work with.
Learn more about our merchants here.
You can find out more about all of those in the video above!